1
Reputation as "BEST CONDOS ON SANIBEL"
Pointe Santo de Sanibel (PS) has a great reputation as one of the most beautiful and well managed properties in Southwest Florida. This is not by accident... it's from the dedicated efforts of our proud owners and professional property management staff.
2
An Investment in Your Family
Many owners first discovered PS on their family vacation. After a few visits, they wanted the PS experience as a permanent part of their lives. They found that PS is more than just a financial investment...it is an investment in their family.
3
An Investment in Your Future
Wonderful family experiences have led many owners to decide that they eventually want to spend their retirement years on Sanibel Island. In the interim, they purchase Florida beach property at today's prices and utilize PS vacation rentals to help build equity.
4

Property Footprint is Near the Beach
PS benefits from being one of the first built on Sanibel Island. You will notice that condos built in later years are located further and further from the beach. Others have restricted beach access and/or wooden walkways.
5
Compact, Efficient Property Layout
All amenltles... the pool, hot tub, clubhouse, tennis courts, shuffleboard, gas grills, lawn chairs, beach access, etc... are an easy walk away. Elevators and well designed tile walkways connect you to everything.
6
On-Site Manager & Owner Services
PS Staff is comprised of ten (10) full time employees responsible for grounds and building maintenance. Average length of service is eleven (11) years. They also are available to perform many interior repair items at owner's expense.
7
Staff & Security On-Site 7 Days / Week
PS staff is available by calling the PS Office Manager, Kimberly Younger, during regular business hours five days per week. Maintenance and security provide extra coverage on evenings and weekends. Security is supplemented with 24 hour phone emergency coverage and video surveillance of the pool, walkways, and parking lot.
8
Manager has Long Term Experience
Property Manager Bruce Peterson has been In charge over 30 years. He was part of the construction crew when the property was built and has in-depth knowledge of the buildings and grounds. Bruce is an active and well-respected member of Sanibel's property management community, and has an excellent track record of knowing how to get things done.
9
Pool, Hot Tub, and Clubhouse
The PS clubhouse has two nice rooms for association meetings, family reunion gatherings, and social functions. It is also available for private parties and special events at a minimum fee that covers clean-up.
10
On-Site Recreation Director
The PS clubhouse is staffed with a Recreation Director, Robin Ortega, five (5) days per week, twelve (12) months per year. Activities include children's programs, crafts, beach walks, shell collecting, book exchange, afternoon ice cream, kids' movie night, bingo, traditional egg hunt, etc.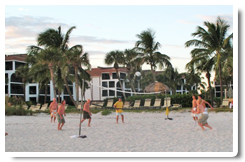 11
Volleyball on the Beach
Families especially remember their time playing volleyball together on the sandy beach.
12
Lounge Chair Area Next to Beach
During high season, over 100 lounge chairs are placed at the edge of the beach for guests and owners to gather and enjoy the sun and fun.
13
Shuffleboard and Tennis Courts
These are located at the north end of the property and available for everyone. Equipment is also provided.
14
Shell Identification / Wash Station
This is located on the edge of the beach to provide guests and owners the opportunity to wash sandy shells, beach toys, shoes, clothes, etc. Shelling attracts visitors from all over the world. PS facilities ensure your shelling and beach experience is top notch and convenient.
15
Gas Barbecue Grills On-Site
Nine (9) professional quality gas BBQ grills are placed in three (3) key locations near the condo units. Owners and guests appreciate the function, cleanliness, and convenience of these grills.
16
Sunsets at the Beachline
Glorious sunsets are always part of Sanibel memories. Typically, dozens of owners and guests gather at the beachline to enjoy every sunset.
17
Roof Decks on Penthouse Units
With PS's unique "offset" building design, every lanai has a view of the gulf. Also, all fourth floor units have individually owned decks for private sunbathing…or just enjoying the view.
18
Pointe Santo Website
The PS website has an informational section for visitors to learn more about PS and a special section just for owners. Lots of important information is available by just logging on to www.pointesanto.com
19
Quarterly Newsletters
Another way owners keep in touch with each other is thru the quarterly newsletters published by owner volunteers.
20
Wireless Internet Available
Pointe Santo has several hotel grade wireless internet antennas located in key spots. Additionally, hard wired internet access is available at the clubhouse.
21
Many Extras Add to Convenience
Basic cable TV is provided by the association. Premium Channels are available thru Comcast.
Pest control is provided by the association.
Air conditioner inspection and maintenance is provided four (4) times per year by the association.
Water heaters are systematically replaced at the end of their life cycle (generally 5 years), eliminating countless repairs and water damage problems.
All front entrance doors were recently replaced to provide a consistent look outside ...plus comply with current windstorm resistance standards.
22
Heavy Duty Building Construction
Tropical construction materials include concrete blocks, masonry walls, and reinforced concrete roof decks. Most building foundations are on a concrete pad with deep (22') concrete pilings.  Compare this "superior" wind resistance rating to other condos on the island.
23
100% Fully Funded Reserves ($1,068,000)
This is a KEY point that illustrates how well PS is managed. Future replacement needs are identified and are fully funded with reserves. This includes roofs, pool, parking lot, walkway tiles, etc.
24
100% Hurricane Impact Glass & Doors
The PS condo association ensures appropriate building updates are identified and implemented. For example, recently all storm windows, entry doors, and sliders were updated and certified as meeting Florida's Class A hurricane impact codes. These provide greater storm protection...plus, they now qualify for insurance discounts for both the association's policy and the owner's policy. Not only do these "hurricane standard" doors and windows protect each owner's unit, they also ensure the integrity of the whole building, so damage to an adjoining unit does not spill over to your unit.
25
100% CPVC Water Pipes
In 2008, all copper water pipes were replaced by CPVC plastic pipes. This eliminates any future erosion and water leaks due to our seaside environment. Copper water pipes have a short life on the island, and only recently have these construction standards changed. This can be a major issue for other condo associations.  This is an excellent example of the type of project studied and executed by the proactive Board of Directors…as explained in the next section.
26
Proactive Condo Association Board
The condo association's Board of Directors is proactive and very committed to maintaining PS's reputation. Of the seven (7) board members, most have owned over twenty (20) years. Members are balanced with various managerial skills...many utilized by the board's responsibilities.  Owners are asked to participate on committees reviewing issues and opportunities in such areas as environmental, long-range planning, image, recreation, insurance, website, communication, legal, and social. Every owner's opinion matters.
27
Efforts to Minimize Insurance Costs
Since Insurance is one of an association's largest expenses, PS has organized a proactive effort to review coverage, underwriters, and cost saving opportunities. The association's insurance committee includes several owners with experience with business insurance plus representatives from the area's largest insurance agency.
The Biggert–Waters Act, effective October 2013, is skyrocketing flood insurance premiums for older single family homes on Sanibel.  Many are now paying 5–8% of their property value just for flood.  By comparison, PS total flood premiums are (approximately) one-half of 1%.
This effort has been extended further to help individual owners secure better coverage. As an informational guideline, the committee provides an overview of the insurance options available to owners. This is intended to de-mystify the annual review with the owner's agent. It includes:
Building specifications
Specific agent questions
Examples of insurance strategies
28
Maintains Updated Rebuilding Costs
Building replacement costs are updated every two years. This is used to ensure the association carries sufficient insurance coverage to fund the rebuilding project in the event of a catastrophic event....such as a fire or major hurricane with a high tidal surge.
29
Maintains Master Rebuilding Plan
Should a disaster occur, the association has developed a master plan to help streamline the repair or rebuilding process. This ensures continuity of ownership and expedites the construction of replacement buildings. Everything that can be anticipated now has been done. The idea is to eliminate the approval and scheduling bottlenecks that others will experience....and therefore become one of the first condos repaired or rebuilt. PS has been advised that buildings can be rebuilt on the same footprint (not true for some condos on Sanibel).
30
Friendly, Helpful Staff and Owners
It is quite evident that PS's Staff enjoys their work and their work environment. Who wouldn't? Owners are from many different parts of the US, and a few are international. It's our little piece of paradise. Come join us, and make it part of your little piece of paradise, too.