Weekly rentals are available at Pointe Santo de Sanibel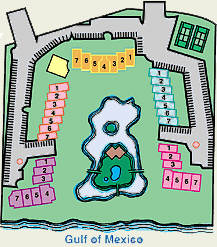 Unlike many other complexes on Sanibel, each condo at Pointe Santo is individually owned, furnished, and maintained.  Some units are available for rent.  However, Pointe Santo Condominium Association, Inc., does not participate in or have any role in condominium rentals, nor does it have availability information.
If you are interested in renting one of the units, please use the search facility at the right to obtain contact information, all of which is provided by owners.  Rentals take place either directly through the owners or through one of Sanibel Island's rental agencies, but not though the Pointe Santo Condominium Association.
All communication about the physical condition of condos, financial arrangements, entry instructions, and other details of the rentals must be done with the owner or rental agent.  Neither the Pointe Santo Condo Association nor its employees is able to answer any on-site questions about the details of condo rentals.  Individual owners are responsible for maintaining and furnishing their units.
General Information
Pointe Santo has condos with one bedroom (maximum occupancy four people); two bedrooms (six people); two bedrooms plus den (six people) ;and three bedrooms (eight people).
Each condo is provided with one assigned parking space.
Guests are not allowed to have pets.
Each condo has cable TV.
Each condo has a washer and dryer.
There is high-quality Wi-Fi access throughout the complex.
There are wired Internet connections in the Clubhouse.
A PC and printer are available in the Clubhouse.
Directions to Pointe Santo can be found on the Sanibel Information page, or you can consult Google Maps.
See the Visitor Information page for more details.